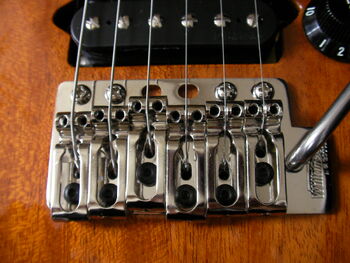 | | |
| --- | --- |
| Wilkinson/Gotoh VSVG vintage tremolo installed on an Ibanez AT300 | |
The Wilkinson/Gotoh VSVG, also known as the Wilkinson/Gotoh VSVG Vintage Tremolo, is a type of synchronized tremolo bridge produced by Gotoh based on a Wilkinson design. It is installed on some models in the Andy Timmons series.
It is a drop-in replacement for a stock tremolo in a Fender Stratocaster. It was designed to improve tuning stability compared to the stock Fender tremolo.[1]
Sources
↑ Wilkinson/Gotoh VSVG review, Geezer Guitar (blog), October 2012, archived June 2016.
Portal:
Tremolo bridges
|
Parts

Ad blocker interference detected!
Wikia is a free-to-use site that makes money from advertising. We have a modified experience for viewers using ad blockers

Wikia is not accessible if you've made further modifications. Remove the custom ad blocker rule(s) and the page will load as expected.