Today's featured "eBay find" is actually not even on eBay, but on Reverb. Once again we're dipping our toe into the "vintage" end of the pool.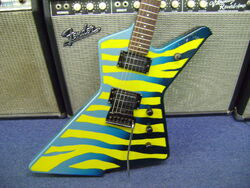 This one is a
1984 DT-380 Destroyer
. Again, this model is too old to be in the scope of this wiki (yet), but I found some information
here
. I don't see this model in the
1984 X series catalog
, but the DT350 covered there is likely to have some similarities. The most interesting thing about this particular example is (obviously?) the "Safari" paint scheme; it really completes the guitar's quintessential 80's vibe.
This example appears to be in decent shape considering its age. It appears to perhaps have the original dual V5 humbuckers. The bridge appears to me to be a Powerrocker Fender-style non-locking synchronized tremolo, although the specs I've uncovered say the original would have been a Pro Rock'r; the photographs are not definitive on this point.
The asking price of US$699 (plus $55 shipping) seems high to me, but then I know next to nothing about the desirability of this particular model as a collectible, nor its rarity. All the same, it looks like a fun guitar for someone who wanted to try to recapture his or her 1980's glory days.
Disclaimer: As before I have absolutely no connection with this seller or financial interest in this sale. Caveat emptor.
Ad blocker interference detected!
Wikia is a free-to-use site that makes money from advertising. We have a modified experience for viewers using ad blockers

Wikia is not accessible if you've made further modifications. Remove the custom ad blocker rule(s) and the page will load as expected.