I teased today's eBay find in my first post in this series. This one might not look like much, but it's got an interesting history.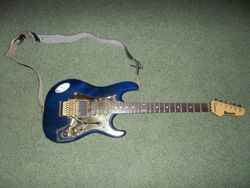 Today's featured instrument is a
Blazer series
model which was (according to the seller's description) owned and played on stage by former Ibanez artist
Reb Beach
of Winger, Alice Cooper, Dokken, Whitesnake, etc. This one was a custom model, made in Ibanez' L.A. custom shop in 1997 (serial number LA042197). The Blazer was a Fender strat copy which was made by Ibanez in the early 1980s and reissued in the late 1990s. This example appears to be well used with some possible damage to the pick guard and plenty of nicks and dings. It is equipped with EMG pickups in an HSS configuration.
The back of the guitar is signed "To Greg- Take care of my baby. Reb Beach 5/04." A hard-shell case (with Whitesnake sticker) and Whitesnake guitar pick are included.
If you want to own this piece of history, here's the eBay link. This one is a flat-price "Buy It Now" listing with an asking price of US$3475 (plus shipping).
Disclaimer: As before I have absolutely no connection with this seller or financial interest in this sale. Caveat emptor.
Ad blocker interference detected!
Wikia is a free-to-use site that makes money from advertising. We have a modified experience for viewers using ad blockers

Wikia is not accessible if you've made further modifications. Remove the custom ad blocker rule(s) and the page will load as expected.