As I explained in yesterday's post, I've discovered some interesting (to me, at least) Ibanez guitars up for sale recently and I've decided to share these finds here.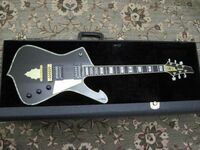 While the
first item
I highlighted was a well-used (abused?) guitar, this next one is the polar opposite — it's a 21 year old guitar that (if the seller is to be believed) has literally
NEVER been played
. It is a Paul Stanley signature Iceman-style 1995
PS10LTD
guitar (unfortunately yet another gap in this wiki's scope). The description claims that the protective plastic from the factory has never been removed from the pickups, pickguard, etc. and the accompanying photos appear to corroborate this claim. A certificate of authenticity signed by Stanley is included, as is the original hard case.
The one thing that looks a bit odd to me is the serial number: H950580. At first glance this would appear to indicate the 580th guitar made in August of 1995 using the following pattern: letter indicating the month, 2-digits indicating the year and 4-digits indicating the production sequence. However according to the research I've found, this numbering scheme was used only until 1986. Looking at the serial number alone I would interpret it to be the 50,580th instrument made in 1989 by Terada (first character indicates the manufacturer where H=Terada, first numeric digit is the last digit of the year and the last 5-digits indicate the production sequence). My serial number information is certainly NOT iron-clad, but this discrepancy definitely gives me a bit of pause about the authenticity of this guitar.
If the buyer is to be believed this looks like an interesting piece of history that can be yours for a starting bid of only US$3,300. Here's a link to the auction if you are interested in putting in a bid.
Disclaimer: I have absolutely no connection with this seller or financial interest in this sale. Caveat emptor.
Ad blocker interference detected!
Wikia is a free-to-use site that makes money from advertising. We have a modified experience for viewers using ad blockers

Wikia is not accessible if you've made further modifications. Remove the custom ad blocker rule(s) and the page will load as expected.