This page is about the green Universe model (1991-1993). For the black Universe model introduced in 1998, see UV777P.

The Ibanez UV777, also known as the UV777 GR, is a Universe series electric guitar model and a seven-string signature model of American guitarist Steve Vai. It was introduced in 1991, one year after the introduction of the UV series.
The UV777 features a green finish, different in color to the famous "Loch Ness Green" of Vai's first Ibanez signature model, the JEM777. It sports a maple fretboard with tri-color, disappearing-pyramid inlays, and dual-color pickups. This model is quite rare, with only 340 having been made. They rarely come up at auction, and, because of their age, are rarely available in good condition.
In 1998, a new Universe was introduced also known as the UV777 in the USA. In the rest of the world including Japan it is known as the UV777P.
Specifications
Specifications for UV777
Model name: UV777
Year(s) produced: 1991-1993
Sold in: Worldwide
Made in: Japan
Finish(es): GR (Green)

Body
Body material:
American Basswood
Neck joint:
Cutaway Heel
Bridge:
Lo Pro Edge 7 tremolo
Hardware color:
Cosmo Black
Pickguard:
Black

Neck
Neck type:
UV
Neck material:
1-Piece Maple
Fingerboard material:
Maple
Fingerboard inlays:
3 Color Disappearing Pyramid
Frets:
24 / Dunlop 6140
Portal:
Universe series
|
Guitar models

Images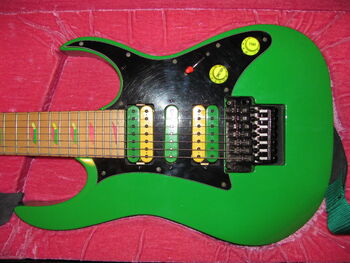 Ad blocker interference detected!
Wikia is a free-to-use site that makes money from advertising. We have a modified experience for viewers using ad blockers

Wikia is not accessible if you've made further modifications. Remove the custom ad blocker rule(s) and the page will load as expected.