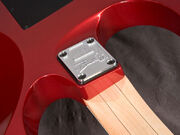 The Tilt Joint is a slimmed down neck joint on some models of Ibanez guitars with bolt-on neck mounting constructions.
The neck joint is the point at which the neck attaches to the body of the guitar. A screw plate is used to secure the joint but unlike classic bolt-on models such as the Fender Stratocaster the actual heel is tilted to ease the access to the upper frets. It was replaced by the even thinner All Access Neck Joint on most Ibanez models.
Usage
It was used on RG type guitars from 1987 until 1993. Almost all RG models from 1994 and later have the AANJ (with the RG170 being one exception). The Tilt Joint did reappear on the 2007 and 2008 RG reissues and on the 2009 PGM100 Paul Gilbert Model reissue. Paul Gilbert also requested it on his 2009 PGM401 model. Pre-AANJ Ibanez JEM models have the thinner Cutaway heel.
Other guitar models featuring a Tilt Joint are the Power and Radius including the Joe Satriani model, which is based on the Radius.
Portal:
Neck joints
|
Parts

Ad blocker interference detected!
Wikia is a free-to-use site that makes money from advertising. We have a modified experience for viewers using ad blockers

Wikia is not accessible if you've made further modifications. Remove the custom ad blocker rule(s) and the page will load as expected.