The TM1730M is a Talman series solid body electric guitar model introduced by Ibanez in late 2015. It represents the reintroduction of the series which had been discontinued in 1998. It is made in Japan by FujiGen as part of the upscale Prestige line.
Design
The headstock of the TM1730M features a straight-pull design, which allows the strings to come straight off the bone nut, thus eliminating the need for a string tree or a tilt-back design. The neck has a 12" (305mm) radius meaning it has a flatter fretboard which enhances the player's ability to bend notes and allows for a lower action.
The TM1730M features an alder body mated to a maple neck with a 22-fret maple fingerboard with dot inlays and a bone nut. Components include a retro-styled tremolo bridge, three Seymour Duncan single coil pickups and Gotoh locking tuners.
Specifications
Specifications for TM1730M
Model name: TM1730M
Year(s) produced: 2015–2017
Sold in: USA / Europe
Made in: Japan
Finish(es): TFB (Tri Fade Burst) 2015–2016 / VWH (Vintage White)

Body
Body type:
Solid body
Body material:
Alder
Neck joint:
Fast Access w/ stainless plate
Bridge:
ITL-PRO tremolo
Hardware color:
Chrome/ white
Pickguard:
White
Portal:
Prestige series
|
Talman series
|
Guitar models

Images
Videos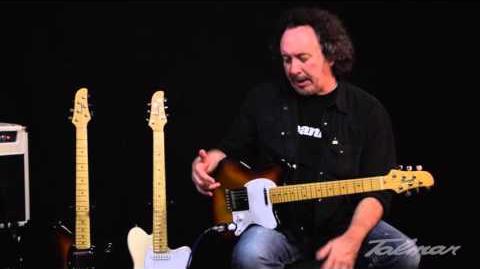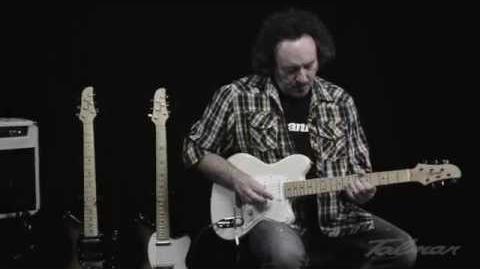 Related models
The TM1730 is the TM1730M's twin, except for its rosewood fretboard. The TM1730AHM is similar except that it has an ash body. The TM1702M is similar except for the fixed bridge and lack of the middle pickup. The TM1803M shares a 3-pickup configuration, but has a more novel control configuration than the TM1730M's typical 5-way toggle.
Sources
Ad blocker interference detected!
Wikia is a free-to-use site that makes money from advertising. We have a modified experience for viewers using ad blockers

Wikia is not accessible if you've made further modifications. Remove the custom ad blocker rule(s) and the page will load as expected.