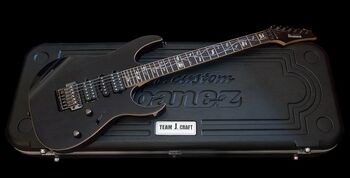 The Ibanez RG8470F is a J Custom RG series guitar model introduced in 2006. It had a production run of two years. Features include a mahogany body with flamed maple top and binding, DiMarzio pickups and an Edge Pro tremolo. The fingerboard also features flamed maple binding.
A version of this guitar with an AAAAA flamed maple top was issued as the RG8470A in limited numbers in 2006 and a few Ishibashi shop exclusives with special finishes were issued as the IRG8470F. With the introduction of the Edge Zero tremolo in 2008 the RG8470F was discontinued in favor of the RG8470Z.
Specifications
Specifications for RG8470F
Model name: RG8470F
Year(s) produced: 2006–2007
Sold in: JP
Made in: Japan
Finish(es): BX (Black Onyx) / FE (Fire Agate) / PR (Prominence) / RS (Red Spinel)

Body
Body material:
Mahogany with flamed maple top and binding
Neck joint:
AANJ
Bridge:
Edge Pro tremolo
Hardware color:
Cosmo Black

Neck
Neck type:
Super Wizard
Neck material:
5-piece maple/ walnut
Fingerboard material:
Rosewood with flamed maple binding
Fingerboard inlays:
Vine
Frets:
24 / jumbo
Portal:
J Custom series
|
RG series
|
Guitar models

Images
Ad blocker interference detected!
Wikia is a free-to-use site that makes money from advertising. We have a modified experience for viewers using ad blockers

Wikia is not accessible if you've made further modifications. Remove the custom ad blocker rule(s) and the page will load as expected.