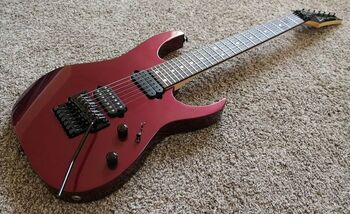 The RG7620 is a seven-string RG series solid body electric guitar model introduced by Ibanez in 1998. It is sometimes referred to as the RG7-620. It was one of the first two seven-string RG series models offered by Ibanez along it's fixed bridge sibling, the RG7621. Prior to the RG7620/RG7621 introduction the only Ibanez seven-strings belonged to Steve Vai's signature Universe series.
Features of the RG7620 include a basswood body, Dimarzio pickups and a Lo Pro Edge tremolo. Although some Ibanez catalogs state that the RG7621 actually came with DiMarzio Blaze pickups, they are actually special DiMarzio 7 pickups, also known as Custom 7, specially made for Ibanez's seven-string models. In 2000, the RG7620 was updated along with the introduction of the RG7420. New features were a three-piece neck, new finishes and powder cosmo hardware.
The RG7620 and RG7621 were discontinued after 2002. Similar models were introduced as the RG1527 and RG15271 in 2003, and the RG752 and RG752FX in 2014, as a part of the Prestige series. While the RG1527 featured the Edge Pro 7, the RG752 features the return of the Lo Pro Edge 7 once found on the RG7620.
Specifications
Specifications for RG7620
Name: RG7620 / RG7-620
Years: 1998–2002
Areas: Worldwide
Made in: Japan
Finishes: BK (Black) (1998–2000) / DAB (Dark Adriatic Blue) (2000–2001) / GK (Galaxy Black) (2000–2002) / GN (Gray Nickel) (1999–2001) / PL (Pearl White) (1998–1999) / RB (Royal Blue) (1998–1999) / VK (Vampire Kiss) (1998–1999)

Body
Body type:
Solid body
Body material:
Basswood
Neck joint:
AANJ
Bridge:
Lo Pro Edge 7
Hardware color:
1998–1999: Black
2000–2002: Powder cosmo

Neck
Neck type:
RG7
Neck material:
1998-1999: 1-piece maple
2000-2002: 3-piece maple/ bubinga
Fingerboard:
Rosewood
Inlays:
Pearl dot
Frets:
24 / jumbo
Portal:
RG series
|
Guitar models

Images
Sources
Ad blocker interference detected!
Wikia is a free-to-use site that makes money from advertising. We have a modified experience for viewers using ad blockers

Wikia is not accessible if you've made further modifications. Remove the custom ad blocker rule(s) and the page will load as expected.