The PGM300RE is a PGM series solid body electric guitar model introduced by Ibanez in 2009. It is a signature model of American guitarist Paul Gilbert and a reissue of the classic PGM300 to commemorate the 20th anniversary of the PGM series.
The PGM300 was the second PGM model to be reissued in 2009, after the PGM100RE. Unlike the PGM100, the PGM300 reissue was chosen by popular vote on the Ibanez website.
Like the PGM300, the PGM300RE features a basswood body, maple fingerboard, reversed headstock, DiMarzio pickups, the Lo-Pro Edge tremolo and Paul Gilbert's signature painted F-holes. A minor difference is the five piece maple/walnut neck instead of a single piece maple neck.
Specifications
Specifications for PGM300RE
Model name: PGM300RE
Year(s) produced: 2009
Sold in: Worldwide
Made in: Japan
Finish(es): WH (White)

Body
Body type:
Solid body
Body material:
Basswood
Neck joint:
AANJ
Bridge:
Lo-Pro Edge tremolo
Hardware color:
Cosmo black
Portal:
Paul Gilbert series
|
Signature series
|
Guitar models

Images
Feature highlights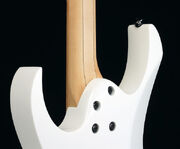 The AANJ and 5-piece maple/walnut neck
Ad blocker interference detected!
Wikia is a free-to-use site that makes money from advertising. We have a modified experience for viewers using ad blockers

Wikia is not accessible if you've made further modifications. Remove the custom ad blocker rule(s) and the page will load as expected.