This page is about the JEM77 PMC. For other JEM77 models, see JEM77.

The Ibanez JEM77, also known as the JEM77 PMC (Purple Multi Color), is a JEM series electric guitar model and signature model of American guitarist Steve Vai. Features include DiMarzio pickups, a Lo-Pro Edge tremolo, disappearing pyramid fingerboard inlays and a special purple multicolor finish. Only 271 examples were produced, making this one of the most rare Steve Vai Ibanez guitars and making them exceedingly collectible.
The guitar bodies were 'swirled' by Darren Johansen of About Time Design creating the unique finish. Other Steve Vai models with this kind of finish are the UV77, JEM77 GMC and JEM2K.
Specifications
Specifications for JEM77 (Purple Multi Color)
Name: JEM77
Years: 1992
Areas: Worldwide
Made in: Japan
Finishes: PMC (Purple Multi Color)

Body
Body material:
Basswood
Neck joint:
Cutaway Heel
Bridge:
Lo-Pro Edge tremolo
Hardware color:
Cosmo Black
Pickguard:
Clear

Neck
Neck type:
JEM
Neck material:
1-Piece Maple
Fingerboard:
Maple
Inlays:
Disappearing Pyramid
Frets:
24 / Jim Dunlop 6100
Portal:
JEM series
|
Guitar models

Images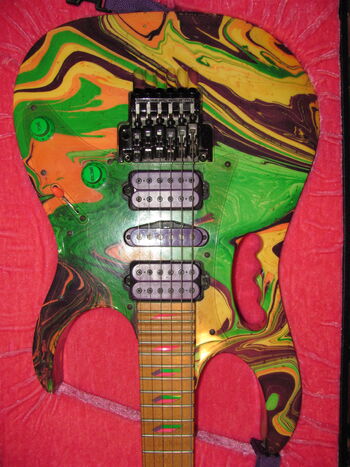 Ad blocker interference detected!
Wikia is a free-to-use site that makes money from advertising. We have a modified experience for viewers using ad blockers

Wikia is not accessible if you've made further modifications. Remove the custom ad blocker rule(s) and the page will load as expected.