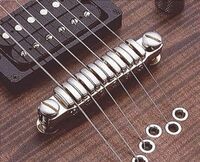 The Gibraltar III is a guitar bridge used on various hard-tail Ibanez models. It was introduced in 2003 as an update of the classic Gibraltar II bridge. It is designed by and produced for Ibanez exclusively.
The Gibraltar III is solely a bridge, meaning that it does not anchor the strings to the body itself. Therefore it has to be combined with a separate tailpiece like the Quik Change III or has to be used in a string-through-body setup as with the SZ520QM.
It is designed for simple use and adjustment. It allows for quick and easy intonation and string height alteration. The rounded surface provides playing comfort and allows longer string life.[1]
Guitar models with a Gibraltar III are various SZ and SZR models and Artist derivatives ARC, ART and ARX. For a full list of models using the Gibraltar III, see here.
Images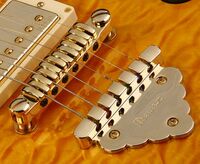 Sources
↑ 2004 Ibanez Prestige catalog, p. 6.
Ad blocker interference detected!
Wikia is a free-to-use site that makes money from advertising. We have a modified experience for viewers using ad blockers

Wikia is not accessible if you've made further modifications. Remove the custom ad blocker rule(s) and the page will load as expected.