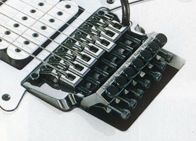 | | |
| --- | --- |
| The Edge 7 tremolo on a UV7P | |
The Edge 7 is a double locking tremolo system developed and produced by Ibanez. It is the seven-string version of the original Edge locking tremolo, which is similar to a Floyd Rose tremolo.
The Edge 7 was specially created and introduced in 1990 for the new Universe models, namely the UV7, UV7P and UV77, but was replaced after only one year with the Lo-Pro Edge 7.
Portal:
Tremolo bridges
|
Parts

Ad blocker interference detected!
Wikia is a free-to-use site that makes money from advertising. We have a modified experience for viewers using ad blockers

Wikia is not accessible if you've made further modifications. Remove the custom ad blocker rule(s) and the page will load as expected.