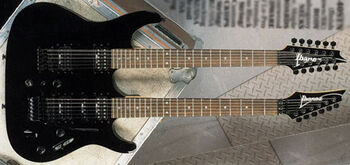 The 540STN is a double neck S series solid body electric guitar model introduced by Ibanez in 1990. It was part of the Roadstar Pro series. It is also referred to as the 540S-TN – the TN suffix stands for Twin Neck.
The 540STN is modeled on the 540S with a sleek, thin-edged double cutaway (triple cutaway?) body. Its lower neck has six stings while the upper neck is a twelve string.
The 540STN features a mahogany body with two one-piece maple necks attached with a traditional bolt-on neck joint with a stamped metal plate. The lower, six-string neck has a reverse headstock. Both necks have 22-fret rosewood fingerboards with dot position markers.
Both necks have Ibanez pickups. The twelve string neck has a dual humbucker configuration, while the six string adds a middle single-coil pickup. The six sting neck has an Edge double locking tremolo bridge with a locking nut while the 12-string has a fixed bridge.
Controls consist of individual volume controls for each neck, a single master tone control, a 5-way pickup selector for the six string neck, a mini 3-way toggle pickup selector for the 12-string neck and a 3-way neck selector toggle.
The 540STN is one of only a few twin-neck Ibanez production models ever made. Since the 540STN was discontinued in 1991, Ibanez has not produced another twin-neck model (as of 2016).
Specifications
Specifications for 540STN
Model name: 540STN
Year(s) produced: 1990–1991
Sold in: Europe / Japan / USA
Made in: Japan
Finish(es): BK (Black) / CP (Crystal Pearl) / RR (Ruby Red) (1991)

Body
Body type:
Solid body
Body material:
Mahogany
Neck joint:
Bolt-on
Bridge:
6 string: Lo-Pro Edge tremolo
  Japan: Edge
12 string: 12 string custom
Hardware color:
Black (White Gold on 1990 CP models)

Neck
Neck type:
Wizard
Neck material:
1-piece maple
Fingerboard material:
Rosewood
Fingerboard inlays:
Pearl dot
Frets:
22 / jumbo

Electronics
Pickup configuration:
6 string: HSH
12 string: HH
Bridge pickup:
6 string/12 string: IBZ/USA F2
Middle pickup:
6 string: IBZ/USA C3
Neck pickup:
6 string/12 string: IBZ/USA F1
Controls:
6 string: 1 volume / 5-way lever
12 string: 1 volume / 3-way mini toggle (pickup selector)
Both: Master tone / 3-way toggle neck selector
Portal:
Roadstar Pro series
|
S series
|
Guitar models

Images
Sources
1990 Japan catalog (pages 24–25) 1991 USA catalog (page 15) 1991 Europe catalog (page 24)
Ad blocker interference detected!
Wikia is a free-to-use site that makes money from advertising. We have a modified experience for viewers using ad blockers

Wikia is not accessible if you've made further modifications. Remove the custom ad blocker rule(s) and the page will load as expected.